EMILY & ROBIN'S TEACHING PLANS…
   Emily and Robin are both delighted to be teaching several classes along with other DFY teachers at the new Align Yoga Studio in Tinton Falls when it opens in October. Please visit their website for more information.
In addition to those classes:
Emily's schedule
beginning the week of September 8th
<![if !supportLists]>· <![endif]>Mondays 9:30-11am at EvenFlow Yoga, 19 Mechanic St, Red Bank
<![if !supportLists]>· <![endif]>Tuesdays 6:30-7:30 pm at the Kaiser Fit Club, 555 Shrewsbury Avenue, Shrewsbury. 
<![if !supportLists]>· <![endif]>Wednesdays 9:15-10:30 am at the Armory, 76 Chestnut St, Red Bank (this class will be moving to Align Yoga when it opens). 
No pre-registration required for these classes.  Drop-ins welcome! Please email Emily@dancingfootyoga.com or call 732‑618‑7518 for additional information, or to schedule a private or small group lesson.
Robin's schedule  
beginning September 6th
<![if !supportLists]>· <![endif]>Saturdays Sept 6, 13, 20 & 27, 8:30-10am – Iyengar Mixed Level, Academy of Dance Arts, 59 Chestnut Rd, Red Bank (this class will be moving to Align Yoga when it opens: new time 10:30-12pm).
Pre-registration required   
Beginning in October
<![if !supportLists]>· <![endif]>Wednesdays 6:30-7:30pm – Yoga for Healing (& Happiness), Academy of Dance Arts, 70 Apple St, Tinton Falls
<![if !supportLists]>· <![endif]>Thursdays 9:30-11:00am – Iyengar Yoga, Daley Practice Center (for Iyengar Yoga), 625 Bangs Ave, Asbury Park
Please email Robin@dancingfootyoga.com or call 908‑489‑5809 for additional information, or to schedule a private or small group lesson.
The name Dancing Foot Yoga comes from the Shiva Nataraj, a <![if !vml]>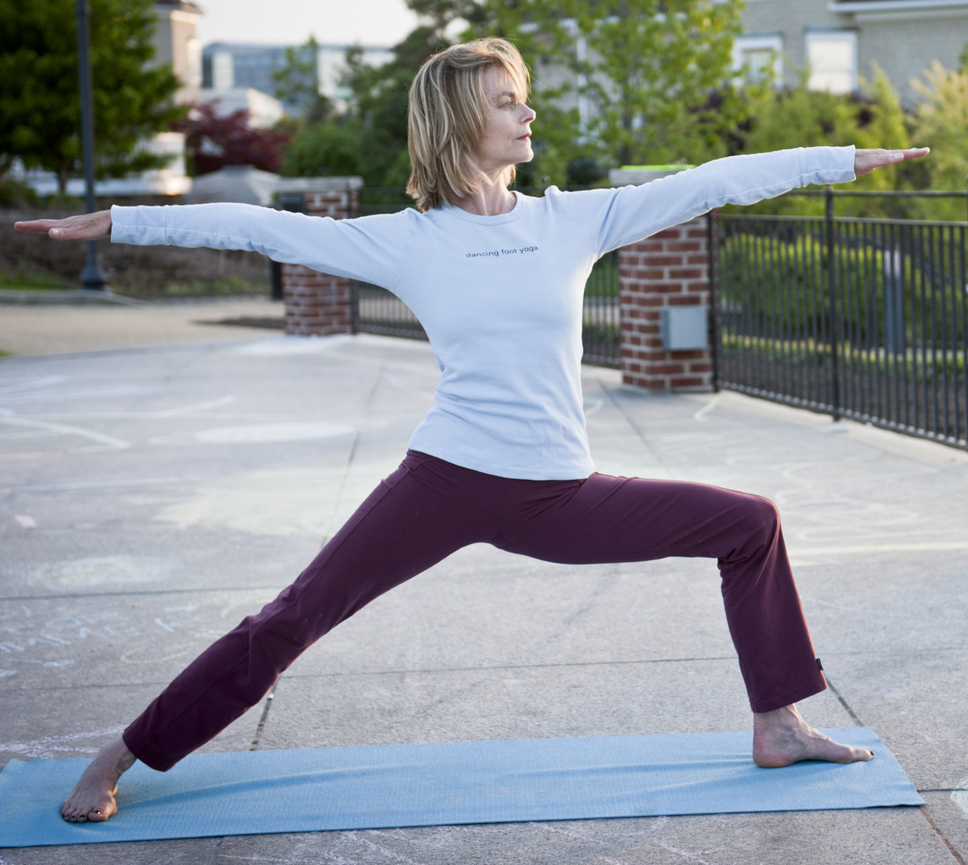 <![endif]>famous image that commemorates the Lord Shiva's dance of creation and being. The Nataraj, or Lord of the Dance, symbolizes the power within each person and the energy that dances within all of us. The cosmic dancer's left foot, the Dancing Foot, is lifted in celebration gesturing to all to come and find the joy within.
*  *  *
<![if !vml]>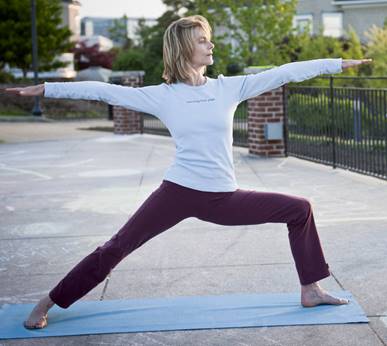 <![endif]>
                          MckayImaging
Yoga is a tried and true method for developing a greater sense of well‑being.
Before beginning any exercise program, check with your licensed health care practitioner.
<![if !vml]>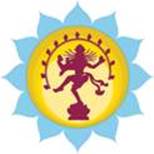 <![endif]>
Emily Huersky  and Robin Candrea
photo from Dan Jacobsen's triCityNews
Robin Hertlein Candrea is a certified Iyengar Yoga* teacher, presently at the Intermediate Junior I level, and continues to train with Senior Iyengar teachers regularly. She recently spent a month studying with the Iyengar family in Pune, India, February 2014, and was fortunate to observe Mr. Iyengar teaching just before he died in August.
Robin was first introduced to yoga when she was a junior at St. Mary's High School in Manhassat, Long Island. One day, Miss Lowinski (her English teacher) said, "Now girls, we
are going to do yoga, so move aside your desks and take off your saddle shoes."  Robin continued to practice yoga as she went on to become a professional modern dancer, and has taught dance and yoga for most of her adult life. She received a Masters in the Psycho-Social Study of Human Movement from Columbia University Teachers College in 1988. She began studying Iyengar Yoga at about the same time, but became hooked on it with teacher, Rodney Yee, a few years later. Theresa Rowland and Joan White have been her primary teachers since 1994, and most recently, Brooke Myers, from the Iyengar Institute in NY.
"Life is not about answers. It is about learning to live in the middle of complete uncertainty, and doing so gracefully." Swami Chetanananda
*Alignment is a cornerstone of the practice of Iyengar Yoga. One often thinks of alignment in terms of the positioning of the body and its various parts during the practice of asana (posture). The value of this aspect of alignment in balancing and protecting the joints, muscles, organs, vessels, and tissues of the body is well known to most people. What may be less well known is the importance of alignment with respect to the flow of energy in the body. –John Schumacher
Most likely one of the only students at the Rumson Country Day School whose mother often picked her up from school accompanied by a Swami, Emily Dubin Huresky was introduced to Eastern Philosophy at a young age. When Emily graduated Magna Cum Laude from Barnard College with a degree in Religion and Philosophy, her aunt, Ellen Lichtig, who was a popular yoga teacher in Red Bank, offered to send her to yoga teacher training as a present. Although on her way to Law School, Emily took up her aunt's offer. The experience changed her life and career plans. Emily has since studied with many of the top yoga teachers in the country. She is a certified Anusara Yoga teacher and devoted student of John Friend whose teachings have dramatically improved her own practice, teaching and world view. Emily has frequently assisted John Friend nationally and is a member of the Anusara certification committee.
<![if !vml]>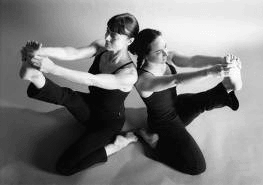 <![endif]>~
*  *  *
Robin Candrea & Emily Huresky
Co-Founders of Dancing Foot Yoga
phone 732-219-6662
Emily@DancingFootYoga.com
Robin@DancingFootYoga.com
www.DancingFootYoga.comAshtanga