Studio Update
DFY's "going away" party - August 28, Thursday 6:30pm.
Potluck dinner, with Mike Barris on guitar. All invited.
Please bring a plate or bottle of something to share.
Drop-in Fee - $15
New Student Special
3 Classes for $30 through August 31
Beginning Level Yoga
can be the beginning of an improved quality of life. Co-directors Robin Candrea, Emily Huresky & DFY Staff teach new students the principles of this physical and spiritual practice. Drop-ins are always welcome.  info@dancingfootyoga.com.

Mixed Level & Advanced Yoga
classes in Iyengar, Anusara and Kundalini traditions from beginning through advanced levels are offered 7 days a week at DFY. See methods of yoga, and the Schedule for more information.
Get Up & Flow Yoga
with Lauren Pappa, Saturdays, 7:15-8:15 am. A dynamic yoga practice that focuses on combining breath with moderate-paced movement.

Kundalini Yoga
taught by Anya Castellano, Sundays 4:00-6:00 pm, will resume in the fall. 2014 registrations for Fall dates and fees, to be announced. Contact info@dancingfootyoga.com
Private Yoga Sessions
to help deepen your practice or to personally address your individual needs. At the studio ($100) or your own home or office ($125). Call 732.219.6662 to schedule your session.
Gift Certificates
are a caring gift for anyone, anytime. They are available at the studio, mail in or drop off this Gift Certificate form. Drop off before or after classes - call ahead or see the class Schedule. Good for 1 year.
DFY Book Club
meets every 6 weeks or so to discuss a new book about yoga's rich history and philosophy. The book we are currently reading is The Bhagavad Gita (ch 7-12) translated by Eknath Easwaran. Keep posted for an announcement of our next meeting. All are welcome. Pot luck snacks optional. Please RSVP, katgrausso@earthlink.com.
Restorative Yoga
instructed by Robin Candrea, Restorative Yoga teaches you the art of relaxation. With the use of props, muscles and organs of the body are gently supported. This soothes the nervous system, allows easier breathing, and helps to relieve chronic tension. Restorative Yoga is suitable for all levels, ages, and even those with chronic pain. Fridays, 6:15-7:30pm. Next class TBA. Space is limited, so please pre-register early; contact robin@dancingfootyoga.com. Class is now included on class packages or $20 drop-in.
Yoga Nidra with Restorative Yoga Workshops
Yoga Nidra, or lucid sleeping, is among the deepest possible states of relaxation while still maintaining full consciousness. This meditative method aims at inducing complete mental, emotional and physical relaxation. Through simple, guided steps see how Yoga Nidra and restorative yoga postures can offer you a sense of calm, peace and well-being. Saturdays, 4:30-6:30pm with teachers Chuck Blair and Lisa Madragona. Next classes TBA. Fee: $25
Teen Yoga
taught by Lisa Mandragona. More than ever, teens need time and space to unwind. In our teen yoga series, students gain lifelong tools to focus and manage stress through postures, pranayama, and meditation. Come relax and have fun in this judgment-free environment while gaining self-worth and self-confidence. Tuesdays, 4:00-5:00pm. Resumes Spring 2014. Pre-registration required.
Earth Gong Bath
presented by Marco Dolce, musician, sound healer, teacher and best-selling recording artist known as Xumantr. Marco is internationally acclaimed for his work with authentic Tibetan singing bowls and gongs. Tuned to the pitch of OHM, relax and renew with the earth gong's sacred vibrations. We will suspend for the summer months and start-up again in the fall. Sundays, 5:30-7:00pm. Next date TBA. $25 in advance, $30 day of event. Pre-register with email to robin@dancingfootyoga.com
Mind Body Energetics
is a dance movement workshop led by choreographer Doreen Laperdon-Addison and Marge Holanov, who is trained in dance-therapy. Enjoy an evening of both structured and free dancing with special attention directed towards healing body and soul. Next class TBA, $20 in advance, $25 at the door.
Nia
with Meredith Amato, next workshop, Fall 2014, DTBA.
*  *  *
<![if !vml]>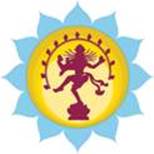 <![endif]>
                          MckayImaging
You'll find extraordinary yoga and a great yoga community here at the Jersey Shore. Dancing Foot Yoga offers diverse programs of yoga to meet your interests, needs, abilities, schedule, and pocketbooks.
Our experienced teaching staff includes certified Iyengar, Anusara and Kundalini yoga instructors teaching classes from beginning through advanced levels.
Find what you are looking for in our current Schedule of classes and special workshops and events. Discover the difference at Dancing Foot Yoga.
Visit our yoga studio to meet us, or contact us at 732‑219‑6662  or  info@dancingfootyoga.com
Yoga is a tried and true method for developing a greater sense of well‑being.
Learn about the Benefits of Yoga and the Methods of Yoga.
Before beginning any exercise program, check with your licensed health care practitioner.

For latest updates please call 732-219-6662
The name Dancing Foot Yoga comes from the Shiva Nataraj, a <![if !vml]>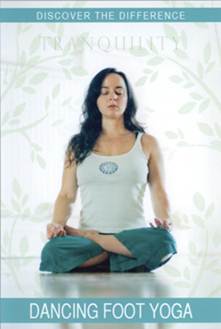 <![endif]>famous image that commemorates the Lord Shiva's dance of creation and being. The Nataraj, or Lord of the Dance, symbolizes the power within each person and the energy that dances within all of us. The cosmic dancer's left foot, the Dancing Foot, is lifted in celebration gesturing to all to come and find the joy within.
<![if !vml]>
<![endif]>
Emily Huersky  and Robin Candrea
photo from Dan Jacobsen's triCityNews
Together we offer opportunities for Yoga and different forms of Dance and Movement classes, as well as lectures on Philosophy of Yoga, Meditation and more. The studio is also available for rental.
Dancing Foot Yoga is home to Synapse Studios – Center for Dance, Music, Media Art – sponsoring creative cultural activities and live performances in our DFY space, located at 16 Monmouth St, 3rd Floor, in the heart of downtown Red Bank.
<![if !vml]>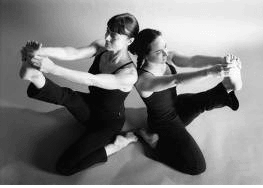 <![endif]>~ modern dance ~
Modern Dance classes are a great way to exercise your body and free your mind. There's much fun in creative movement inspired by Robin's love of dance, and her training and background as a professional modern dancer. Beginners and experienced dancers, come enjoy the company of others as you relax, work up a sweat, move to rhythms of world music, and express your self.
*  *  *
Dancing Foot Yoga
16 Monmouth St., 3rd Floor
Red Bank NJ 07701

*  *  *
Robin Candrea & Emily Huresky - Co-Directors
phone 732-219-6662
info@DancingFootYoga.com
www.DancingFootYoga.comAshtanga Yoga is taught in the tradition of living yoga master Pattabhi Jois of Mysore, India. This method involves a specific sequential and progressive series of postures synchronized with Ujjayi breathing and a gazing point, driste. Ashtanga Yoga is challenging and heat generating.